A dear friendship:
Heather was the first person I met when I moved to Atlanta more than 25 years ago. A lot has happened since those early years of friendship. We have celebrated many special occasions such as our marriages and the births of our children. We have also shared some hardships, such as my mother's battle with Alzheimer's. When she passed away in 2007 I was devastated, but the outpouring of support carried me through a difficult time.
A week after my mom died, Heather dropped off a gift accompanied by a beautiful handwritten note about my mom. Inside of the box was a sterling silver pendant necklace with Psalm 23 engraved on the back. It symbolized strength and faith and I wore it after my mom's death as a source of comfort during my lowest moments. I still wear the pendant often — it is a tribute to my mother's memory and the thoughtfulness of friends who guide us through difficult times. When I am not wearing it, it sits in a special drawer along with Heather's note and a handful of my most treasured belongings.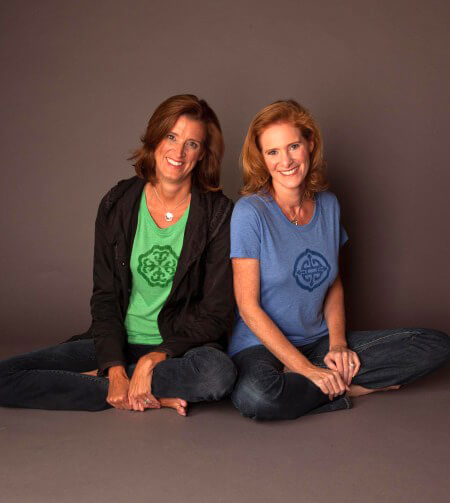 An idea becomes a company.
Heather's thoughtfulness inspired me to search for meaningful gifts for others, but often the best I could do was a casserole or flowers. Thus, that special gift from one friend to another became the impetus for 3Realms.
Life is full of joy and hardship. My hope is that the symbols we've created and the messages behind them will hold the same positive value for their recipients as Heather's pendant did for me.
Pictured: Co-founders and friends: Evelyn O'Reilly and Heather White
There's so much to celebrate ...
... to mark, and to remember. At 3 Realms, we make every effort to create meaningful gifts to mark life's milestones, so that your loved ones can carry your sentiments through their day.